SCHOOL OF NURSING, MANJERI.... MALAPPURAM, KERALA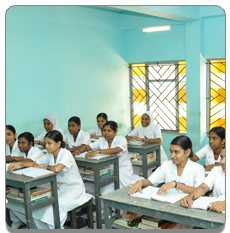 SCHOOL OF NURSING, MANJERI MALAPPURAM DISTRICT, KERALA
The School of Nursing run by the "K.M.H Memorial Trust" Manjeri and attached to Korambayil Hospital & Diagnostic Centre (P), Ltd , Manjeri was first started in the year 1985 with an intake capacity of ten girl students, Permissive sanction to star the school was accorded as per order No. J. 1853/84 dated 03/12/1984 of the Kerala Nurses and Midwives Council,Trivandrum.
This was the first recognized Nursing School in Malappuram District during the year 1985.
The present intake capacity of the School is 25 students every year.
The School enjoys recognition of the Indian Nursing Council also.Vide 18/16/1457 INC dated 04/03/2005.
The Nursing School which is housed in a multistoried elegant building in the close proximity of the " Korambayil Hospital & Diagnostic Centre (P) , Ltd., Manjeri is situated on the left side of the Manjeri Pandikkad Road approximately 2Kms away from the central bazaar.
The period of training is three and half years starting from 1st October every year. On successful completion of the training course the students are awarded " Diploma in Nursing and Midwifery ".
Girl students who have passed +2 with a minimum of 45% marks in Science , Physics and Biology , who are between the age of 17 and 27 years are eligible for admission to the training course , if other condition are satisfied.
Poor students are given admission to the training course without levying fees and they are provided reading materials free of cost. They are given free accommodation and food also. Scholarships are awarded to brilliant students.
Laboratory Facilities
In the first instance the students are given sufficient coching to gain practical experience in the following laboratories of the School after which they are deputed to the hospital for further clinical experience.
Fundamental of Nursing Laboratory



Community Nursing Laboratory



Nutrition Laboratory



Anatomy and Physiology Laboratory



Computer Laboratory

Application Form